The Idea
Living up to its original name, Serene Hills is an attempt to bring back the charm and bliss of old Bangalore, which seems to have traded its serene charm for its growth, transforming itself from the Garden City of India to the country's Silicon Valley.
Planned by renowned international landscapers and architects, the property sensitively draws from Bangalore's rich artistic and architectural traditions, while meeting the taste and standards of contemporary living. Long walkways run through the sprawling landscaped property. Distinctive features include pitched pavilions, sloped roofs, wood and stone seaters, and a fine balance in the arrangement of structures and space, all characteristics of an authentic Bangalore home.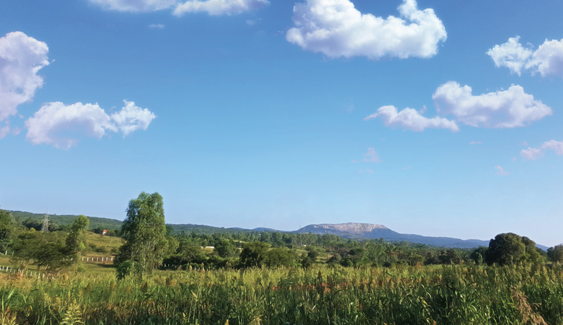 The Land
Serene Hills is set within the terraced valley of Kaggalipura. Situated amidst lush green forests, the property is flanked by hills, vast fields and others breathtaking views in all directions. Located at the edge of the Bannerghatta National Park, the surrounding topography is perfect for those who love great outdoors. It also serves as a destination for avid trekkers, history buffs, and birdwatchers. Long winding paths that meander through the green meadows and temperate woods make for great evening walks, while the lake nearby is a perfect place to laze away many a Sunday afternoons.
The Recreation
Whispering Woods
Serene Hills hosts multiple recreational amenities such as Whispering Woods which is a perfect place to start your day or to end it. Long walkways lined with park benches run through landscaped gardens, and the avenues are lined with flowering trees and shrubs authentic to Bangalore. The park is ideal for contemplation in splendid isolation, or for conversations rather quiet and intimate.
The Olympia
Rivaling the facilities offered in a resort, this sports arena at Serene Hills meets the needs of the young and not-so-young sports enthusiasts. It comprises of multiple play areas for basketball, volleyball and hide-and-seek, and others swings spread across the property.
Nature's Soul, the Clubhouse
Nature's Soul is the state-of-the-art clubhouse. It comprises of a well-equipped gym which overlooks the lovely swimming pool, bordered by a verdant lawn that is fenced by an amphitheater made of stone. The clubhouse is idyllic for parties and get-togethers.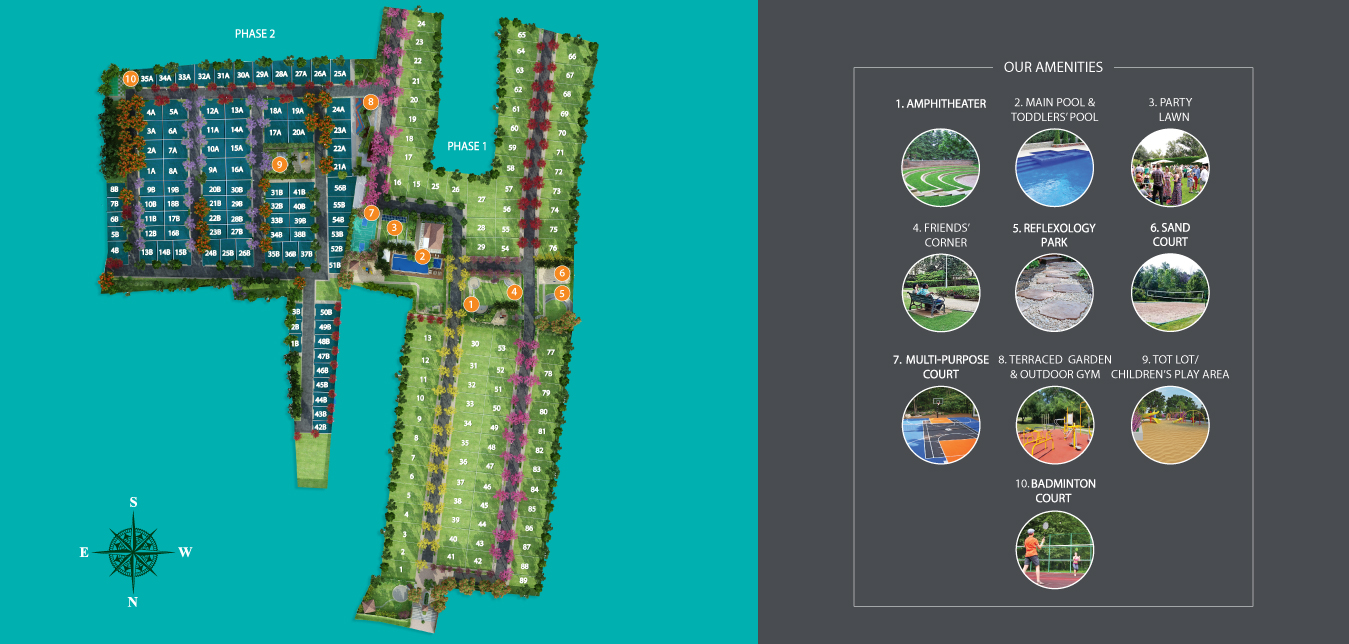 WATER
Round-the-clock high-pressure water supply through
hydro-pneumatic system
Water softening plant
Rainwater harvesting
Sewage treatment plant
Underground sewage lines
Storm water drains
ELECTRICAL
Solar-powered LED street lights
Underground power and data lines
Telephone and data connection for every plot
Intercom facility
Underground sewage lines
100% power backup for common areas
THE INSPIRATION
Serene Hills stands for everything Bangalore is, was and will be. Determined to bring back the charm and authentic aura of old Bangalore, Serene Hills radiates tranquility and fresh air. As a group, Sunland believes that roots supersede branches. With this ideology, Sunland has recreated for you the charm of old Bangalore, with its vibrant green environment, tranquil and pure atmosphere, and contemporary luxuries of fine living, in Serene Hills. Come, reclaim your city, and your tradition.
FAQ
What is the total extend of the project?
The total area available is 16.25 acres and Phase I development will cover 10.25 acres and
the remaining 6 acres will form a part of Phase II development.
How many plots does the project have?
A total of 89 plots have been carved out in Phase 1 and 90 of Phase 2.
Does the project have all necessary approval?
Yes, the project has been approved by BMRDA (Bangalore
Metropolitan Regional Development Authority) vide Approval No:
1.KPA/LAO/25/2014-15 for Phase 1
2.KPA/LAO/48/2015-16 for Phase 2 (A series)
3.KPA/LAO/23/2016-17 for Phase 2 (B series)
Which banks have approved the project for loan disbursement?
LIC HFL, HDFC, PNB and ICICI have approved the project and is subject to eligibility.
What is the current status of the project?
More than 70% of the infrastructure work has been completed and the model cluster is
ready in Phase 1 and 30% work completed in Phase 2.
Plots start from 1000sft ranging upto 4000sft, with Phase 1
average plot size 2600sft and Phase 2 average plot size 1600sft.
Will  Sunland Ventures build a villa for me?
We would be more than happy to.
Will the project have any By-laws?
Yes, all the plot owners will need to adhere to them very strictly.
Please refer to separate By-Law heading for more details.
What is the source of water?
Water supply will be obtained through the available ground water.
A water recycling plant, rainwater harvesting and other methods for
optimum use of water resources will be implemented.
Will there be a over head tank for water supply?
No, there will be no water tank built since we are going to use a
state-of-the-art hydro pneumatic system. This system will ensure
that there is high-pressure water available to all plots using the
water from the Sump.
When will the project be completed?
The project will be complete by July 2018.
Are all the sites ready for registration?
As per the norms the authorities release the sites for registration as follows for Phase 1:
Upon plan sanction – 40% of the sites will be released
Upon completion of all civil works – 30% of the sites will be released.
Upon completion of all works – Balance 30% will be released.
For Phase 2: 100% Release after completion of project in all aspect.
Can I register my plot immediately?
If the desired plot is a part of the 40% as indicated above, it can be registered immediately.
If the plot is in the second tranche of 30%, it can be registered immediately.
If the plot is in the last tranche of 30% it will be ready for registration in November 2017.
If the plot is in Phase 2 (A and B Series), it will be ready for registration in March 2018.
Can I transfer the plot to any of my nominees?
Incase the transfer takes place before registration, there will be a Rs. 100/- per sft payable
to Sunland Ventures as a one time transfer fee.
Are the premium plots charged extra such as corner plots/North East plot
and plots facing Clubhouse/park?What are the extra charges?
Yes, A preferred location attribute fee is applicable for corner / park facing
/ club house facing plots and will be indicated in the payment plan.
Will each plot be demarcated?
Yes, there will be markers at the four corners to demarcate the boundaries of the plots
and the plot number will be displayed on the plot.
What are the other statutory/additional charges to be paid?
Apart from the plot price, the following charges are collected
Maintenance deposit is collected for maintenance of the community
for 5years Contingency fund to cover unexpected repairs of the common area.
CClubhouse membership fee Miscellaneous expenses such as legal, 1 yr. tax, liaison charges etc.
Bescom Deposit towards Electricity connection.
Registration Fees and Stamp Duty as applicable
Can we see the documents/legal opinion?
We have obtained legal clearances. Legal opinion will be handed over to you
at the time of signing the agreement to sell. A complete set of title deeds will be available for review.
What will be the deductions in case I want to cancel my bookings
before signing the sale agreement?
If within 15 days of booking no cancellation charges will be levied. If between 16–45 days – Rs. 400,000/-
Booking amount will be deducted and the rest refunded to you within 45 working days of the date of cancellation.
Who will maintain the layout after completion ?
The developer will maintain for the first 5 years after project completion. From 6th year,
the operations will be handed over to the Registered Owners' Association.
when does the maintenance period start?
Maintenance period commences after the project completion which includes Phase 2.
what is the scope of maintenance?
Maintenance services will be provided by Sunland Ventures Pvt. Ltd. under
a separate Bank account. The scope of maintenance will cover maintenance of the common infrastructure for the plots, roads,clubhouse and landscape of common areas. For this, all owners will pay a five year maintenance deposit and a contingency fund.At the end of five years, the accounts will be handed over to the Owner and Resident Association if they desire to hire their own facility management services.
Will there be a property manager on site?
Yes, A Manager will be appointed to oversee the entire maintenance requirements.Our aim is to provide top-class facilities and ensure